INTRODUCTION
Are you someone who often travels to the US and carries a lot of money with you and wishing to open a bank account? Are you someone who deals with many US clients and have to send or receive USD now and then? Are you someone who wants to invest in the US stock market or keep your money in a foreign bank account?
Suppose your answer to any one of the above questions is YES! Then, this article is just right for you. The idea of opening a bank account in the US must have popped in your mind once, and you might be wondering whether a non-US citizen can open a bank account in the US.
The answer is YES! It does not matter whether you are a citizen or a non-US citizen; as long as you fulfill the requirements, you can open your account in US banks. It is also not illegal for banking or other financial institutions in the US to open accounts for a noncitizen or non-resident foreign-born. However, after the USA Patriot Act, which was passed after the terrorist attack in the US on September 11, 2001, the banking and financial institutions have to follow stricter guidelines in the identification process of noncitizens. The more stringent guidelines prevent identity misuse and add a layer of protection against terrorism fundings.
How can an individual who is a noncitizen can open a bank account in the US?
There are several ways a person can apply to open his account in the US. For example, he can apply online, walk into the branch, or apply to open a bank account in any international branch of a US bank. However, the most prevalent and successful method is by walking to the bank physically because banks need to verify your documents and identity.
Documents Required by a citizen and noncitizen to open a bank account.
It is common practice in the US for banks to ask for the documents before opening an account to verify your name, date of birth, address, and verification number, irrespective that you are a citizen or a non-US citizen. A person can use utility bills or lease agreements to verify his residence/physical address. Mind you, document requirements may vary from bank to bank. Just call the bank to verify the requirements.
Individuals need to deposit between $25 to $100 as an initial deposit to open a savings or checking account. Further, they may be required to keep a minimum balance in the account to save themselves from maintenance charges by the bank. These will vary from bank to bank. Some banks may require a more minimum balance and initial deposits, while others require less. Make sure to check their policies before deciding to open an account in the bank.
Is Social Security Number(SSN) required for opening a bank account?
It is possible to open a bank account without the requirement to submit an SSN. Generally, banks may require SSN from individuals who are citizens for verification. However, individuals who do not have SSN may have other options available to get their identity verified. So a noncitizen may be required to submit one or more of the following forms of identifications: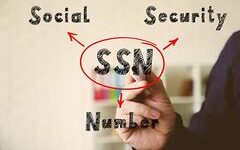 A passport number or foreign-born identification card number
Taxpayer Identification Number (TIN)
Foreign government-issued ID
It will depend on banks what other documentation they require for opening an account. So it is ideal for a person to call the bank first before visiting the bank and take all the required documents along with him.
Online Bank Accounts
An individual can apply online to open a bank account remotely. However, the success rate would be marginal. This is because he still needs to go physically to the bank to verify his identity and documents if he does not have SSN. This is to prevent illegal financing by properly verifying the person's identity and leaving no gaps behind. So ideally, if you do not want your application to be rejected, just go in person with all relevant documents and open your account.