Introduction
Because of COVID 19, there is a travel ban put by the US government to prevent the spread of the new virus in the United States. The ban is specific to certain countries experiencing a surge in their daily coronavirus cases or who have a very high infectious rate and can spread the virus in the United States. Therefore, to curb this situation, there are rules laid down by the US government which curtail travel from these countries. In this article, we will see some latest news update regarding the COVID 19 Travel Related Ban in the US.
COVID 19 Travel Related Ban
At present, four presidential proclamations suspend entry into the United States. These proclamations will apply to non-citizens who are physically present in the 33 countries during the 14 days preceding their entry or attempted entry into the United States. However, the White House recently announced that it will lift COVID-19 travel restrictions for fully vaccinated international visitors starting Nov. 8, 2021, ending historic restrictions that had barred much of the world from entering the United States for as long as 21 months.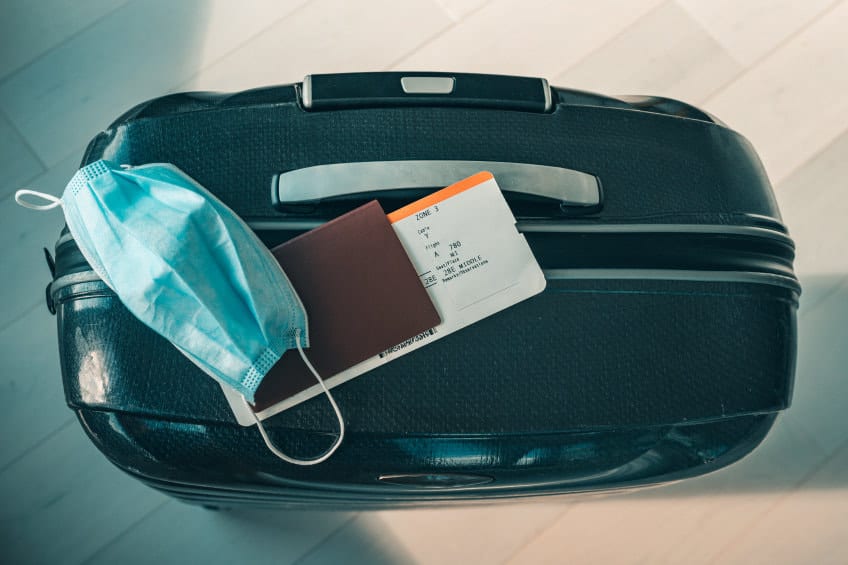 The four proclamations are:
Presidential Proclamation 9984 (China)
Presidential Proclamation 9992 (Iran)
Presidential Proclamation 10143 (Schengen Area, United Kingdom, Ireland, Brazil, and South Africa);
and Presidential Proclamation 10199 (India).
The Schengen Area comprises 26 European countries. So the total number of countries that come under the Presidential Proclamations are 33.
The proclamations will not apply to:
US citizens
Lawful permanent residents
Spouses and minor children of US citizens or lawful permanent residents
Parents or legal guardians of a US citizen or lawful permanent resident unmarried minor child
Siblings of a US citizen or lawful permanent resident child, provided both are unmarried and under the age of 21
Air and sea crew members
US noncitizen nationals (not applicable to Proclamations 9984 (China) and 9992(Iran))
Diplomats
Any non-citizen who is a member of the US Armed Forces and any non-citizen who is a spouse or child of a member of the US Armed Forces
Certain U.S. Government invitees for the containment or mitigation of COVID-19 (including Educational Commission for Foreign Medical Graduates (ECFMG) J visa program participants)
Certain travelers whose entry would be in the national interest, as determined by the Secretary of State, Homeland Security, or their designees.
Individuals who satisfy any of the above categories can travel to the United States and are exempt from the COVID travel ban. The Secretary has determined that the travel of the above individuals is in the national interest.
Further, some travelers also get exemption from getting National Interest Exemption(NIE) approval from a US embassy or consulate. These are-
All immigrant travelers from all categories except travelers from India (which only covers nonimmigrant travel).
Fiancé(e)s of US citizens and their dependents (K visas);
Students from F-1 and M-1 visas
Students traveling to the United States on F-1 and M-1 visas from any of the countries in four proclamations are subject to benefits of National Interest Exemption at the Port of Entry and do not require advance approval for an NIE from an embassy or consulate.
Further, any student who had been present in China, Brazil, Iran, South Africa, or India are subject to an August 1/30-day condition to get benefits of NIE. The condition is that if you are either a new admission or an existing student, you can enter the US no prior than 30 days to the start of their academic program that begins on August 1, 2021, or later. It will also include Optional practical training.
Who can apply for NIE?
National Interest Exception or NIE allows traveling to the US despite travel bans from certain countries. You request for NIE if you live in one of those countries, and if granted, you can travel to the United States. Suppose you think that your travel is related to the following categories. In that case, you can consult the website of the nearest embassy or consulate for instructions on applying for an NIE.
Exchange students and academics (certain J visas to include those in the professor, research scholar, short-term scholar, or specialist categories)
Travelers providing executive direction or vital support for critical infrastructure sectors or directly linked supply chains.
Travelers providing vital support or executive direction for significant economic activity in the United States
Journalists on I visas
Pilots and aircrew traveling for training or aircraft pickup, delivery, or maintenance
Temporary workers present in South Africa whose travel is essential to the food supply chain (H-2A and certain H-2B visas)
If your travel falls in any of the following categories-
Humanitarian – If the purpose of your travels is to provide care to a US citizen or lawful permanent residence or other nonimmigrants maintaining their lawful status in the US.
National Security – If your travel relates to national security in the United States.
If you are a medical escort, legal guardian, or other escort required by an airline or legally required by a foreign medical or law enforcement entity accompanying a US citizen being repatriated to the United States.
If you have to undergo life-saving medical treatment in the United States.
To help fight the COVID-19 pandemic or continue research in areas with significant public health benefits, e.g., cancer or communicable disease research.
Derivative family members of a non-citizen who either gets NIE or is not subject to countries under proclamation and is engaged in certain types of long-term employment, studies, or research lasting four weeks or more.
Suppose your case does not fall under the above criteria and you feel that your travel to the United States is urgent. In that case, you can consult the website of the nearest embassy or consulate for instructions on applying for an individual NIE. The embassy or consulate may support issuing of Individual NIEs in some cases, and the suggestion will be forwarded to the Department of State for consideration.
Conclusion
Suppose you need any assistance in your travel to the United States related to visas and related queries. In that case, you can message Sethi and Mazaheri law firm. Our experienced team of immigration attorneys will contact you to guide you on your case.