Introduction
Have you wondered what the final step of your naturalization process is? What are all things you require and what to do after you have passed your naturalization interview? Oath of Allegiance is the answer to the former question. It is a ceremony you need to perform to become a US citizen. In this article, you will find some more information on the Naturalization Oath Ceremony and what to do if you have missed the ceremony.
What is Oath of Allegiance?
The naturalization ceremony is the last step in the process of becoming a citizen of the United States. After successfully passing your Naturalization and Citizenship interview, you have to wait for your citizenship until your Naturalization Oath Ceremony.
You will be asked to complete a questionnaire at the ceremony about your activities since your interview. You can find the questionnaire at the back of Form N-445, Notice of Naturalization Oath Ceremony, which is your appointment notice.
You can expect the following thing at your Oath ceremony — A presentation on the rights and responsibilities of a US citizen, recitation of the Pledge of Allegiance, taking the Oath, a congratulations speech, and distribution of naturalization certificates.
Why is the Oath Ceremony important?
USCIS is dedicated to enhancing the naturalization ceremony's significance as a venue for recognizing the rights, duties, and importance of citizenship. It intends that the Oath Ceremony should be a pleasant and memorable event in the participants' lives. It honors the Oath of Allegiance with policies and practices that mark its relevance. Oath of Allegiance as a culmination of the naturalization process itself reflects its importance. You will not become a US citizen without performing in an Oath Ceremony. After the ceremony you can do the following:
Apply for a US Passport: You will be provided with a US citizenship Welcome Packet at the Oath Ceremony. It will contain an application for a US Passport. Soon after your Oath Ceremony, you can apply for your US passport. In addition to your Certificate of Naturalization, a US passport serves as official proof of citizenship.
Register to Vote: Voting in governmental elections is the right and duty of a US citizen. You can register yourself to vote at federal elections after you take your Oath of Allegiance.
File permanent resident petitions for family members.
You can take all other advantages and have the rights that a US citizen would have.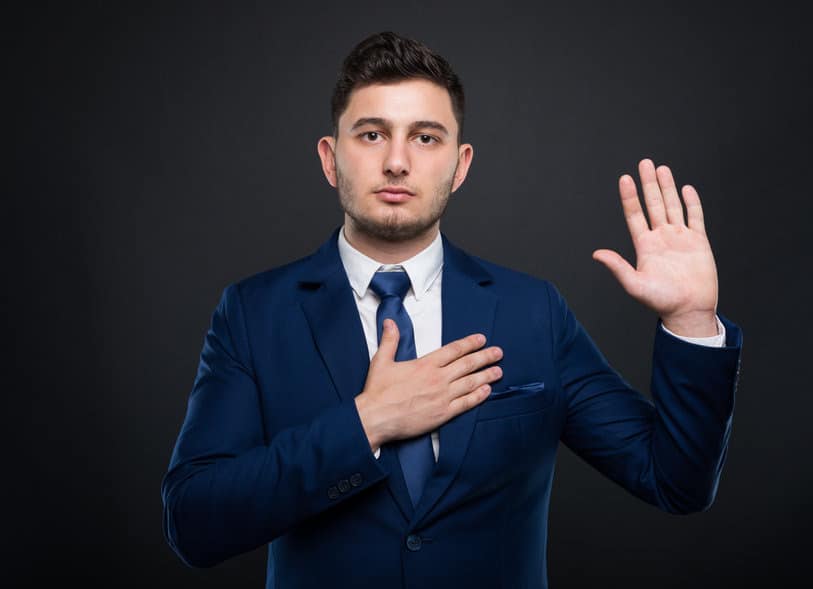 What documents should I bring to the Oath Ceremony?
Make sure to bring to the ceremony all of the documents specified on the appointment notice. That would include a permanent resident card, any reentry permit or refugee travel document you may have, and any other immigration documents issued by USCIS.
Permanent resident card or Green Card – You can take the Oath if you forget your green card; however, you need to hand over your permanent resident card to get the naturalization certificate. In case your green card is lost or stolen, and you no longer have possession of it, you need to provide a form that proves the same (For example — you may need to submit a police report)
Reentry permit or Refugee travel document (if any)
Any other immigration documents in your possession.
Any other documents mentioned on your appointment notice or Form N-445.
Just make sure to check any other document asked explicitly by the USCIS to bring to your Oath Ceremony. Go there with a big smile and a positive attitude as the day will be a life-changer for you.
What should I wear at the Oath ceremony?
USCIS provides specific instructions to the applicants to dress in such attire that keeps the dignity of the ceremony. Wearing jeans, shorts, and flip-flops at the ceremony are expressly prohibited by the USCIS.
What if I do not attend the Oath ceremony?
Knowing the importance of the Oath ceremony, you should make every possible effort not to miss the ceremony on the scheduled date. However, it is possible that unanticipated events could shatter your hopes to attend the ceremony on the scheduled date. What should you do next?
If you cannot attend the ceremony, you must submit a letter to the USCIS explaining your absence. You should also return Form N-445 (your appointment notice) along with the letter by certified mail with a return receipt. You will be informed about the next scheduled date of your Oath Ceremony.
You should be cautious that not attending two consecutive Oath Ceremony without sufficient reasons might lead to denial of your application, and you have to go through the entire process again.
What if I cannot attend the oath ceremony due to a disability?
It might be possible that an unfortunate event has happened with you making you temporary or permanently disabled. In such cases, you can't attend your Oath of Allegiance due to disability. What would be your next step?
You could write to USCIS stating your unwanted absence due to disability. You can also request to take your Oath either at your home or another location as a reasonable accommodation.
Conclusion
You are fortunate to be at this beautiful moment in your life. Finally, you will be enjoying the benefits of your immigration efforts on becoming a US citizen. You should have known quite a lot about the Citizenship Oath Ceremony and how you can request rescheduling if you miss the ceremony. Go with full enthusiasm to the ceremony and take the Oath. If any other confusion, just drop your message to us, and we will respond to your request in no time.