Artists and performers from all over the world have long been drawn to the United States. From rookie artists to renowned professionals globally, all are eager to show off their stellar abilities.
The US provides visas and work opportunities to many artists and students who want to explore their passion for arts. This article will explore the available visa options for artists in the US.
Which visa is available in the US for artists and entertainers?
Do you intend to study arts in the United States but are confused about the work opportunity and your next step? US offers many visa options for artists to come to the US and showcase their art. For students who intend to work in the US, whether as entertainers, musicians, visual artists, or personnel, the sequence of their next steps is not precise, and there may be confusion. Let's see which visa option is right for you.
Non-immigrant Visa Options:
Non-immigrant visas are temporary visas allowing a noncitizen to remain in the US to either work, study, or accompany their family members.
Non-immigrant visas are lettered from A-V with many subcategories. The most available visas are F-1, H-1B, O-1, P Visas, J-1 exchange visas, L-1, and E visas. There are also visas for diplomats, representatives of NGOs, journalists, religious workers, fiances, government informants. Each visa has its own limitations, processing times, rules on temporary intent and maintaining a foreign residence, restrictions on work authorization, and provisions for dependents. Keep in mind that for those who may not qualify for an immigrant visa and permanent residence, their goal should be to maintain valid temporary visas while in the US until they become eligible to apply for a permanent visa.
F-1 Visa
Many foreign artists engage in a degree program, such as Master of Fine Arts(MFA), to secure their first admission into the United States. They do it by applying for an F-1 visa, allowing the students (including artists) to enter the US as a full-time student and enroll in a program or course of study that leads to a degree, diploma, or certificate. The university or school that provides such degree, diploma, or certificate must be authorized by the US government to accept international students.
The key benefit of enrolling for an F-1 visa is that it allows the foreign artist to engage in employment subject to certain conditions and restrictions. The artist should work only in his field of specialization. FOr example, an artist can work as a curator in a museum, work in an art gallery, or be represented by an agent to do work-for-hire. For this, the artists can choose Optional Practical Training (OPT), which allows them to stay and work for one year after their studies have concluded.
H-1B Visa
An H-1B Visa is a temporary work visa that allows foreign nationals to reside in the US for a specialty occupation. An H-1B visa permits an individual to stay in the US for three years, and they may choose to extend this to a maximum of 6 years. In this category, you need to have an employer who then becomes the petitioner.
Employers are required to file certain additional attestations and maintain records. For example, the employer must promise to pay the prevailing wage for that job in that geographic area and the actual wage paid at that company for others in the same position. There are various other attestations regarding the proper treatment of the H-1B worker and US workers at the company and union notification. The amount of H1-B visas issued each year is limited, so be sure to consult with an attorney to make sure your application is thoroughly completed for the best chances of approval.
J-1 Visa
This visa is for people from all over the globe who want to learn new talents in the United States and bring them back to their home nations. Artists may also qualify for a J1 visa as a trainee or intern. International organizations can assist artists in obtaining a visa to participate in an internship or exchange program. The J-1 visa allows the visa holders to complete internships, research projects, training programs, etc. The length of stay will depend on the program you choose.
While F-1 and J-1 visas are not artist-oriented visas, an artist can benefit from such visas to travel to the US. Other visas which are available for an artist are:
O-1B Visa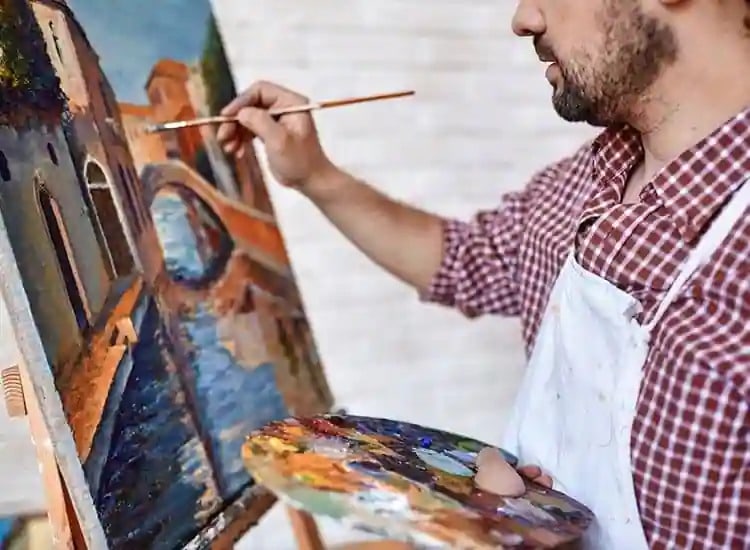 O-1B visa is for individuals with extraordinary abilities in the arts or extraordinary achievements in the motion picture or television industry. An artist can obtain an O-1B visa if he can demonstrate distinction in his abilities by showing evidence of high-level achievement in the field of arts. He can do so by demonstrating a level of talent and fame much beyond the ordinary artist, to the point that he is a famous, recognized, leading, or well-known figure in the field of arts.
An artist can get up to 3 years of visa permit in his initial application and can apply for an extension in 1-year increments depending upon the time he needs to accomplish the initial event or activity.
P-1B Visa
P-1B visa is for the noncitizen artists and entertainers entering the US for a temporary period to perform as a member of an entertainment group. The group should be formed for at least one year and must be recognized internationally as outstanding in their discipline for a sustained and significant period of time. There are other eligibility requirements for obtaining a P-1B visa. You can check it here (Please link P-visa: all classifications when published)
Unlike an O-1B visa where an artist can perform individually, artists acquiring P-1B status must perform as a part of a team.
A noncitizen artist or entertainer gets an initial stay for the time required to complete the event, competition, or performance and will not exceed one year. USCIS allows them to extend their stay in 1-year increments to continue or complete the event, competition, or performance.
P-2 Visa
P-2 visas are offered to artists and entertainers visiting the United States on a temporary basis to perform, either individually or as part of a group, as part of a reciprocal exchange program jointly organized by organizations in the United States and other countries.
You will get an initial stay of up to 1 year depending upon the time required to complete the event, competition, or performance. However, you can apply for an extension in increments of up to 1 year in order to continue or complete the event, competition, or performance.
The artist or entertainer must enter the United States through a government-approved reciprocal exchange program to be eligible for a P-2 artist visa. They must also have abilities equivalent to US artists and entertainers participating in the program outside of the US.
P-3 Visa
A noncitizen may apply for a P-3 visa if he is coming to the US to perform, teach or coach as an artist or entertainer either as an individual or a group member under a culturally unique program.
You must be traveling to the US to develop, interpret, represent, coach, or teach a unique or traditional ethnic, folk, cultural, musical, theatrical, or artistic performance or presentation. In addition to that, you must be visiting the United States to take part in a cultural event or activities that will contribute to your art form's understanding or development.
USCIS allows you an initial stay of up to 1 year on a P-3 visa depending upon the time required to complete the event, competition, or performance. You can apply for an extension in increments of up to 1 year in order to continue or complete the event, activity, or performance.
Immigrant Visa Options
Unlike temporary visas, permanent visas fall into a few primary categories, including family-based, employment-based, Talent-based, and asylum. You need to consider all categories that may apply to you. You may be able to apply in more than one category at a time.
Family-based
Family-based cases are the ones in which one can apply for permanent residence through a family petitioner. There are several categories of family relationships that range from the spouse of a US citizen (the fastest) to sibling of a US citizen (the slowest, now taking well over twelve years and getting worse). There are several other categories, including children and spouses of permanent residents. If by the time you graduate, your family situation changed, and you fell into one of these categories, then you are in luck!
Employment-based
In employment-based categories, an employer may sponsor you for permanent residence. EB-1, EB-2, and EB-3 are some examples of such categories. In general, the employer must show that finding qualified US workers for the position is impossible by advertising the job in a newspaper, radio, or journal. This process is called Labor Certification. This process is considerably more complicated than most graduates realize, and an experienced immigration lawyer knows some jobs lend themselves to Labor Certification better than others.
Talent-based
The talent-based category is the most prominent among artists. The EB-1 visa is the highest preference employment-based petition for permanent residency in the United States and is targeted towards individuals who are amongst the most successful in their fields within the fields of education, sciences, arts, business, or sports. Unlike all the other employment-based applicants for permanent residency, the EB-1a visa does not require an offer of employment; instead, the applicant is granted permanent residence solely based on his professional ability.
The extraordinary ability standard will be challenging to achieve for many artists, and individuals may need to plan a more realistic route to permanent residence. Teaching for several years may be one solution to obtaining permanent residency.
Asylum
An asylum seeker is defined as someone who fears persecution in their country of origin. You must be present in the US to apply for asylum because of persecution due to race, religion, political opinion, nationality, or a particular social group. As an asylum seeker, you must have a justifiable fear of persecution because of the reasons above and, as such, seek legal protection in the US. The individual can either seek asylum once they enter the US or defend against deportation.
Conclusion
As an artist, you can evaluate your merits and decide which route you should take to come to or remain in the US. Each visa type has its own perks. If you want to come to or stay in the US as an artist and want to know more about any particular visa type, you are always welcome to ask our expert immigration attorneys to help you with the proper guidance.