Are you wondering whether you can travel to the United States as an artist or entertainer and perform your art form if your work is culturally unique? The answer is yes! The U.S. government allows artists and entertainers to come to the U.S. and perform their art. They can apply for a P-3 visa which is designed especially for artists and entertainers. You've come to the correct spot if you want to find out if the P-3 visa is appropriate for you. We'll go over all you need to know about P-3 visas in this article. 
What is a P-3 Visa?
A P-3 classification visa is a non-immigrant visa granted for a temporary period. A person may be eligible for benefits under a P-3 visa if he is coming to the U.S. to perform, teach or coach as artists or entertainers either as an individual or a group member under a culturally unique program.
Who is eligible for a P-3 visa?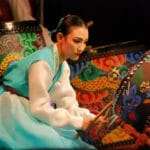 Individuals or groups of artists or entertainers traveling to the United States to develop, interpret, represent, coach, or teach a unique or traditional ethnic, folk, cultural, musical, dramatic, or artistic performance or presentation may be granted a P-3 visa.
Further, you must be visiting the United States to take part in a cultural event or activities that will contribute to your art form's understanding or development.
The program does not need to be organized for commercial purposes. It may be non-commercial.
What is the period of stay on a P-3 visa?
The beneficiaries under the P-3 visa are granted an initial period of stay for the time required to complete the event, performance, or activity for which they are admitted, but it does not exceed one year. However, they may be granted unlimited extensions of stay in increments of up to one year to continue or complete the same activity, event, or performance.
What are the documents required to file a P-3 visa?
The following documents are required to be filed with USCIS along with Form I-129: 
1. A written consultation from a relevant labor organization
2. An explanation of the event and itinerary (an itinerary must be provided if the activities or performances will occur in various locations. The event's dates and places must be listed on the itinerary.)
3. A copy of the petitioner-beneficiary contract or a summary of the details of an oral agreement between the petitioner and the beneficiary
4. Affidavits, testimonials, or letters from well-known specialists to authenticate your or your group's abilities in performing, presenting, coaching, or teaching the unique and traditional art forms, in addition to that, a statement showing the expert's qualifications, as well as the foundation of their understanding of your or your group's abilities. An alternative to providing the above requirement is to give documents along with your I-129 form indicating that your or your group's performance is culturally distinct, as evidenced by reviews in newspapers, journals, or other published materials.
5. Further evidence showing that all of your performances or presentations will be part of a culturally unique event. 
What is the application process for filing for a P-3 visa?
As an individual, you cannot file for getting a P-3 visa. Instead, your U.S. employer, agent, or sponsoring organization must submit Form I-129, Petition for a Nonimmigrant Worker as sponsoring employer for your P-3 visa. Make sure to collect all the required documents to be submitted along with Form I-129.
Can a P-3 visa holder bring his dependents on a P-3 visa?
Yes, if you are a P-3 beneficiary, USCIS allows you to file for a P-4 visa status for your dependents (spouse and unmarried children under the age of 21 years). Your dependents can travel along with you to the U.S. on a P-4 status. However, they are not allowed to work on a P-4 visa. The dependent children can study in U.S. schools or colleges.
Can a P-3 visa holder change his employer during a P-3 status?
USCIS provides the P-3 visa holder benefit to change his employer during his stay on P-3 status. The new employer has to file a new Form I-129 to the USCIS requesting permission to employ the P-3 visa holder and extend his stay for employment. However, a P-3 visa holder cannot start his new employment until and unless USCIS approves the new Form I-129.
Can support staff accompany the P-3 artist or entertainers?
P-3 classification is available to essential support employees who are a vital element of a P-3 artist's or entertainer's performance and offer support services that a U.S. worker cannot conveniently do. Coaches, scouts, trainers, and other team officials and referees are examples of support staff.
However, for support employees, the U.S. employer must submit a new Form I-129. The following documents must be included along with the petition:
– A consultation from an appropriate labor organization 
– A statement outlining the support person's past and present responsibilities, vital abilities, and experience working with the P-3 artist or entertainer.
– A copy of a written contract between the employer and the support person or a description of the terms of the support person's oral agreement.
Conclusion
P-3 visas are a fantastic opportunity for international artists and entertainers to display their work in the United States. As an artist or entertainer, you should be informed of the entire process of a P-3 visa. This article has provided you with most of the aspects covered under a P-3 visa. However, if you still require any assistance relating to your visa, you can message us anytime. Our immigration attorneys will be happy to provide you assistance.