Introduction
The United States protects nationals of certain countries if they have some safety concerns in returning to their home country because of circumstances such as armed conflict, natural calamity, or any other extraordinary circumstances endangering their safety. While in the protection, the individual is not restricted to change/adjust their status, and they can apply for a green card if they become eligible. We will discuss the procedure in detail.
What is TPS?
In some cases, the Secretary of Homeland Security may designate a foreign country for Temporary Protected Status (TPS) if the country's conditions are such that the country's nationals cannot return to the country safely. Depending on the following temporary circumstances, the Secretary of State may designate a country for TPS-
Ongoing armed conflict (such as civil war)
An environmental disaster (such as an earthquake, hurricane, or epidemic)
Other extraordinary and temporary conditions
Citizens of these countries who are already in the United States may be eligible for TPS.
What are the benefits of being a TPS beneficiary?
If you are a TPS beneficiary or your case is deemed to be preliminarily eligible for TPS after an initial review, you have the following rights:
You cannot be removed from the United States
You can obtain an employment authorization document (EAD) and work in the United States.
You may be granted travel authorization.
Once granted TPS, a person's immigration status in the US will no longer be a reason for detention by The Department of Homeland Security (DHS.)
Can I file an application for a green card for TPS?
Temporary Protected Status does not lead to lawful permanent resident status or grant any other immigration status. It is a temporary benefit given to the nationals of certain countries because that country's conditions are not safe to travel. However, registration for TPS does not prevent you from –
Applying for any other non-immigration status.
Filing for adjustment of status based on an immigrant petition
Applying for any other immigration benefit or protection for which you may be eligible
Therefore if you are eligible to file for adjustment of status and obtain a green card, you can do so even if you are obtaining benefits of TPS.
I am a TPS beneficiary. How can I apply for a green card if I am eligible to apply?
If you are a TPS beneficiary, you can apply for a green card through your status of marriage with a US citizen or a US green cardholder. Or, alternatively, you can seek lawful permanent residence through an employment-based green card route. Lastly, you can also apply for Asylum and later apply for lawful permanent residence in the US. We will discuss in brief how you can apply-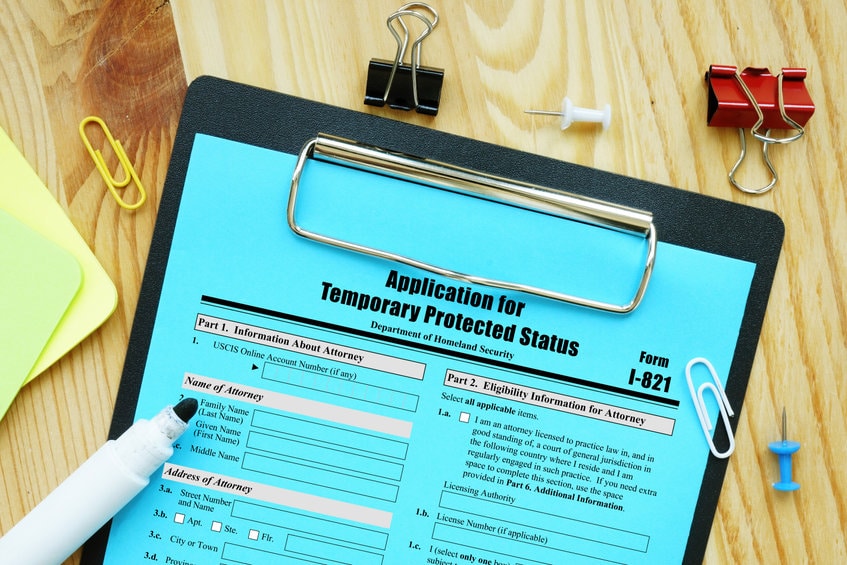 Marriage-Based Green Card Route
If you are under TPS beneficiary status in the US and you get married to either a US citizen or lawful permanent residence while in TPS status, you become eligible for adjustment of your status to a lawful permanent residence. For getting your green card, you and your spouse have to fill the following forms.
Form I-130 (Petition for Alien Relative)- This form should be filed by your spouse who is a US citizen or lawful permanent residence. Your spouse will sponsor you for your immigrant visa.
Form I-485(Application to Register Permanent Residence or Adjust Status) – This form is to adjust your status to lawful permanent residence.
The USCIS will check if your marriage is legitimate or not and that you have no intentions to obtain a green card through a fake marriage.
You and your spouse can either file Form I-130 and Form I-485 together or separately if your spouse is a US citizen. However, you have to check if a visa number is available to you if you are marrying a lawful permanent resident. Spouses of US citizens have a visa number available for them immediately, but the same is not true for spouses of lawful permanent residence.
Employment-Based Green Card Route
If you qualify for an Employment-Based green card, TPS holders can apply for Lawful Permanent Residence through their employers. You can self-petition if you are applying under EB-1 (Alien of extraordinary category), or your employer can sponsor your employment petition. You and your sponsor have to file the following forms to apply for an employment-based green card-
Form I-140 (Immigrant Petition for alien worker)
The employer typically files this petition. Form I-140 is used to ask USCIS to classify you as a person eligible for an employment-based green card.
Form I-485 (Application to Register Permanent Residence or Adjust Status)- If your Form I-140 is approved, you can apply for adjustment of status if a visa number is available for you.
TPS holders will become green card holders if both their Form I-140 and Form I-485 are approved by the USCIS. They can take benefits given to lawful permanent residence and can later apply for US citizenship after they become eligible.
Lawful Permanent Residence after granted Asylum
Holders of Temporary Protected Status are eligible to seek Asylum at the same time they are under the benefits of TPS. If you are granted Asylum in the US, you can apply for adjustment of status after one year of being granted Asylum.
Some might get confused between TPS and Asylum. They are not the same. The fundamental distinction between TPS and Asylum is that the latter takes into account the specific circumstances of persons from all nations in the application process; however, TPS is granted to individuals of certain countries in response to specific circumstances present in their particular country.
What if my country's TPS designation is terminated without the completion of my adjustment application?
As long as your home country is still classified under TPS, you can legally reside in the US. However, the United States will ask you to depart if your country's TPS status is revoked. You have to adjust/change your status before the termination of your country's TPS designation if you want to stay in the US after termination.
Conclusion
If you are a TPS beneficiary, you can apply for a green card if you qualify to apply. In case you need expert help, you can contact Sethi and Mazaheri law firm. Our experienced immigration attorneys are experienced enough to resolve all your immigration-related doubts and assist you in your case.