Introduction
You may have to go through a process known as Consular Processing if you want to come to the United States and get a green card for legal permanent residence. Depending on whether you are outside of the US or in the US, if your immigrant petition gets approved, you can choose consular processing to get your green card.
Consular processing can be a complex and time-consuming process if you aren't aware of how the process works. So, we bring you a comprehensive guide of the process after the approval of your immigrant petition.
What is consular processing?
Once you get your immigrant visa petition approved by the United States Citizenship and Immigration Services (USCIS) and an immigrant visa number is immediately available to you, there are two ways to apply for lawful permanent resident status (a Green Card). The first way is by filing Form I-485, a petition for adjustment of status. This is done when you are already in the US. You do not have to return to your home country to complete the process while adjusting your status.
The other way is Consular Processing. If you are outside of the US, you can apply at the US Department of State consulate abroad for an immigrant visa in order to come to the United States and be admitted as a permanent resident.
How does consular processing work after approval of a petition?
The most common immigrant visa routes are through filing I-130 petition (for alien relatives) and I-140 petition (Immigrant petition for alien worker). There are a lot of questions asked from us about the immigration process after your immigrant petition is approved. Let us see the process of consular processing if your immigrant petition is approved.
Notification from National Visa Centre
When your immigrant visa is approved, and you live outside of the US or live in the US but want to apply for an immigrant visa outside the US, the USCIS will send the approved petition to the Department of State's National Visa Center (NVC). The approved petition will remain with the NVC until an immigrant visa number is available for you.
The NVC will inform you and your sponsor when the visa petition is received and again when the immigrant visa number is about to become available through a notice. It will also include the list of documents and fees you need to submit and when to submit them. The NVC is responsible for collecting visa application fees and supporting documentation.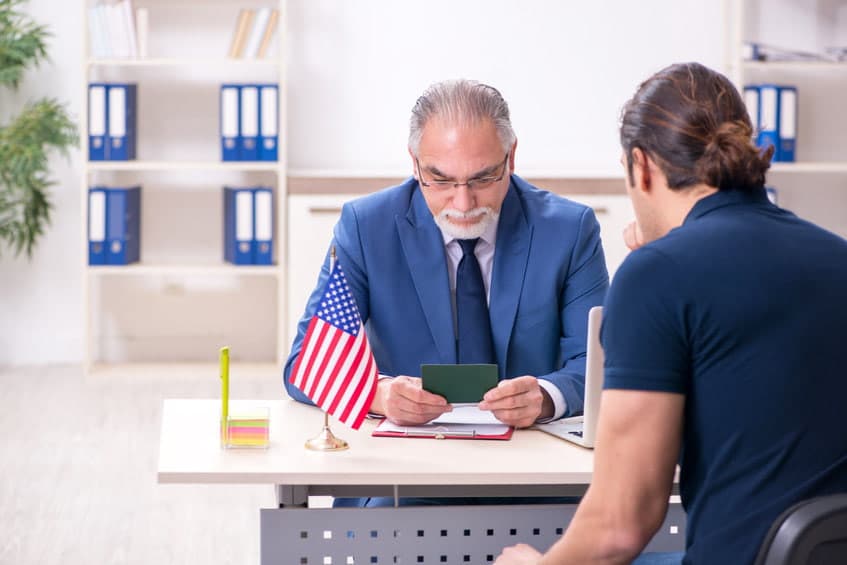 Go for Consular Processing Interview
When a visa number is available, or your priority date becomes current, the next step is to go to your consular appointment. An interview will be scheduled by the consular office, and you will be notified about the date of the interview and the required documents you have to bring to the interview. The documents may vary from case to case, but typically you have to take the following documents along with you to your consular interview:
Your Passport
The receipt of your DS-160 or DS-260 fee payment
Evidence showing you are eligible for the immigrant visa
A photograph of you according to the Department of State requirements
After your interview is over, the consular office will process your case and determine whether you are eligible for an immigrant visa or not.
What happens after my immigrant visa is approved by the consular office?
The presiding officer at the interview will either approve your immigrant visa or reject it. When your immigrant visa is approved, the consular officer will hand over you a packet of information containing the documents you need to travel to the United States. You do not have to open this packet and have to carry it to the US sealed. This packet is called a visa packet, and once you have received it, you will then have to pay the USCIS immigrant fees.
At this step, you have almost completed your immigrant visa process. Next, you have to travel to the US, whereupon arrival at the US border or airport; you will have to give the visa packet to the US Customs and Border Protection (CBP) officer who will check the packet and, if all works well, allow you to enter the US. Once you are admitted to the US, you can enjoy the benefits of being a lawful permanent resident of the US.
When will I receive my green card?
You will receive your green card once you come to the US and have paid the USCIS immigrant fees. You will get a mail from the USCIS at your address, but if you do not receive your Green Card within 45 days of your arrival, you can directly contact the USCIS contact center at 800-375-5283.
You will not get a green card if you do not pay the USCIS immigrant fees. You have to pay the fee first before USCIS sends you a green card.
Conclusion
Immigrants may apply for a green card via consular processing if they have a family who is already a US citizen and can file a petition on their behalf or if they have found work in the US. However, it is very much crucial to know the process workflow beforehand and be ready with all the required documents required in the process.
Immigration attorneys at "Sethi and Mazaheri" law firm dream to help individuals in fulfilling their dreams of becoming a US citizen. We have a team of experienced immigration attorneys who have comprehensive knowledge of the USCIS processes and have helped many immigrants before. You can contact us to get an exclusive one-on-one conversation with our immigration experts, who will help you in the successful approval of your visa.