Introduction
Has the USCIS denied your immigration Appeal for the grant or extension of a visa? Are you unhappy or unsettled with the USCIS decision and are curious whether you can do anything or not? The answer is yes! You may be eligible to file an appeal or a motion on an unfavorable decision by an immigration department. This article will discuss the immigration appeal, your rights, and how you can file an immigration appeal.
What is an immigration appeal?
In the general context, an appeal is a request to the other authority (in most cases, the higher authority decides an appeal) to review an unfavorable decision. In immigration cases, if USCIS gives a negative decision, you may appeal to the following:
USCIS Administrative Appeals Office (AAO) or
The Board of Immigration Appeals (BIA)
How can I file an immigration appeal before AAO?
To file an appeal to the AAO, you must file Form I-290B, Notice of appeal or motion. There are exceptions where you do not have to file an immigration appeal through Form I-290B. The exceptions are:
When your Form N-400 (Application for Naturalization) decision is unfavorable, you should appeal by filing Form N-336, Request for hearing on a decision in naturalization proceedings.
You should use Form I-694 if you appeal to special immigrant worker decisions and legalization applications and termination of lawful temporary resident status under sections 210 and 245A of INA.
If you have received information about an unfavorable immigration decision, you might also receive which form you must use to appeal against the decision if the decision is appealable.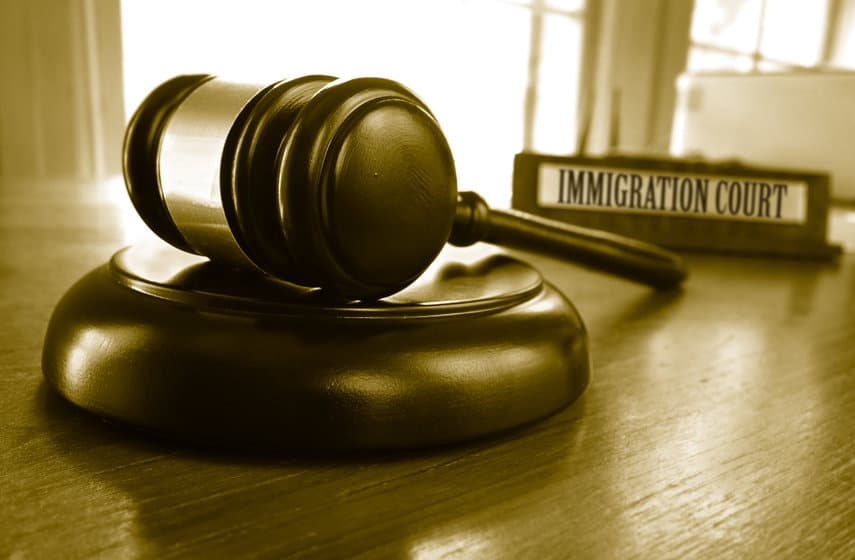 How can I file an immigration appeal before BIA?
All other appeals which are made to the BIA are also filed on form EOIR-29. The Board of Immigration Appeals (BIA) is the highest administrative body for interpreting and applying immigration laws in the US.
When an immigration judge gives a decision, either party can appeal the decision with the BIA. The BIA has been granted nationwide jurisdiction to hear appeals from certain decisions made by Immigration Judges and district directors of the Department of Homeland Security (DHS).
BIA also hears appeals on decisions on Form I-130, and you must file Form EOIR-29 to appeal the decision.
Where should I mail my Immigration appeal to AAO?
It would be best if you did not mail an appeal directly to the AAO. Instead, file your appeal or motion at the appropriate address listed at https://www.uscis.gov/i-290b-addresses. The AAO's mailing address is for briefs and evidence supplementing a pending appeal and other correspondence related to existing matters.
Within how much time should I file an appeal?
In most cases, you have 30 days to file an appeal. Remember, the 30 days start from the date the decision is given on your application and not from the date you have received the decision. However, you only have 15 days to appeal in instances of the revocation of the approval of your petition. Your decision will tell you how long you have to file the appeal. You will not be provided any extension to this timeline. If your decision is mailed to you, you will be provided an extra three days to file an appeal.
Do I need to submit a brief with an appeal?
It is not mandatory to submit a brief with your appeal application, but you can submit one if you choose. However, in your application, you must explain why you think the earlier decision is erroneous and why your appeal should be considered. Failure to provide sufficient reason might lead to the dismissal of your request.
What is the difference between an appeal and a motion?
In an appeal, you request a different authority to review the decision not made in your favor. In the immigration context, you appeal USCIS or immigration judge's decision to AAO or BIA.
However, a motion is a request to the USCIS Office that has made the unfavorable decision to review its own decision. Most of the cases fall under the ambit of motion with certain exceptions. You are eligible to file a motion even if your case is ineligible for an appeal.
Does Oral Arguments take place in an appeal to BIA or AAO?
In cases where an appeal is made to the AAO, it generally adjudicates decisions based on the record of proceedings without oral arguments. However, AAO might grant a written request for oral arguments when a case involves an issue of particular significance. AAO thinks it would be beneficial to grant such oral arguments.
Like the AAO, the BIA also sometimes hears oral arguments on appeals and, in most cases, relies heavily on written submissions to decide on appeals before them.
What is the filing fee for an appeal?
Filing an appeal is not free, and the amount you have to pay will depend on which form you are using. If you are appealing through Form EOIR-29, you have to pay $110, while if you are appealing to AAO through Form I-290B, you would have to pay $675 as filing fees.
How long do AAO and BIA take to decide on appeals?
Usually, AAO decides upon appeals within 180 days from when it receives a complete case file after the initial field review. However, specific immigration appeals may take longer than 180 days, depending upon the complexity, documentation requirement, and other factors beyond the AAO's control.
BIA also strives to make its decision on appeals made to it in no more than 180 days. However, appeals can take longer than 180 days (depending on the novelty and complexity of the reviewed legal issues).
Conclusion
Don't be disappointed if the USCIS rejects your application. You might have other options to get it approved. In most cases, you have an opportunity to appeal the decision to AAO or BIA. If you face trouble approving your application, do not lose hope and message us directly. Our immigration attorneys will provide your guidance and may appeal if an appeal is available for your application.